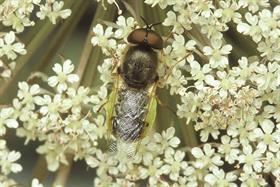 Invertebrate Conservation in Wales
There are eight non-marine invertebrates included on Annex II of the EC Habitats & Species Directive that occur in Wales, represented here on 22 Special Areas of Conservation. Twelve species are given Full Protection under Schedule 5 of the Wildlife & Countryside Act and Section 7 of the Environment (Wales) Act contains 215 invertebrate species. 69 of the NERC species are registered as 'Research Only' to indicate that further information is required to elucidate the scale of and reason for their decline. Of the remainder, 33 (15%) are believed to be extinct in Wales and several others, including the belted beauty moth Lycia zonaria and the soldierfly Odontomyia hydroleon, are seriously endangered. Invertebrates are recognised as Qualifying Features on 158 SSSIs, represented by 88 different species across 14 Orders.
Our rarest invertebrate species may be given protection under UK and international legislation but the conservation of the vast majority of species depends on recognition of specific habitat conditions that are capable of supporting rich assemblages of species. Some of the more popular groups benefit from having dedicated societies with a presence in Wales. Butterfly Conservation Wales and the British Dragonfly Society are valuable partners in the task to conserve our invertebrate fauna and Buglife are also becoming increasingly involved. Inevitably, however, the scope and complexity of the Welsh invertebrate fauna means that no single forum is capable of providing the necessary expertise and much of our knowledge is derived from the efforts of individual specialists, many of whom will be based outside Wales.

---
Top image shows Cicindela maritima (dune tiger beetle) - a scarce inhabitant of foredunes in England and Wales, with several Welsh sites including Morfa Dyffryn and Whiteford supporting strong populations.
Image © Adriam Fowles

Bottom image shows Odontomyia hydroleon (Barred Green Colonel) - a rare soldier fly occurring in only two sites in the UK. The base-rich flushes at Banc y Mwldan SSSI in Ceredigion is the only location in Wales for this species.
Image © NRW /MJ Hammett)